WEBINAR: Repositioning Business & Personal Wealth – post pandemic
Date: 13th October 2021
Time: 11:00 to 11:45
Location: Online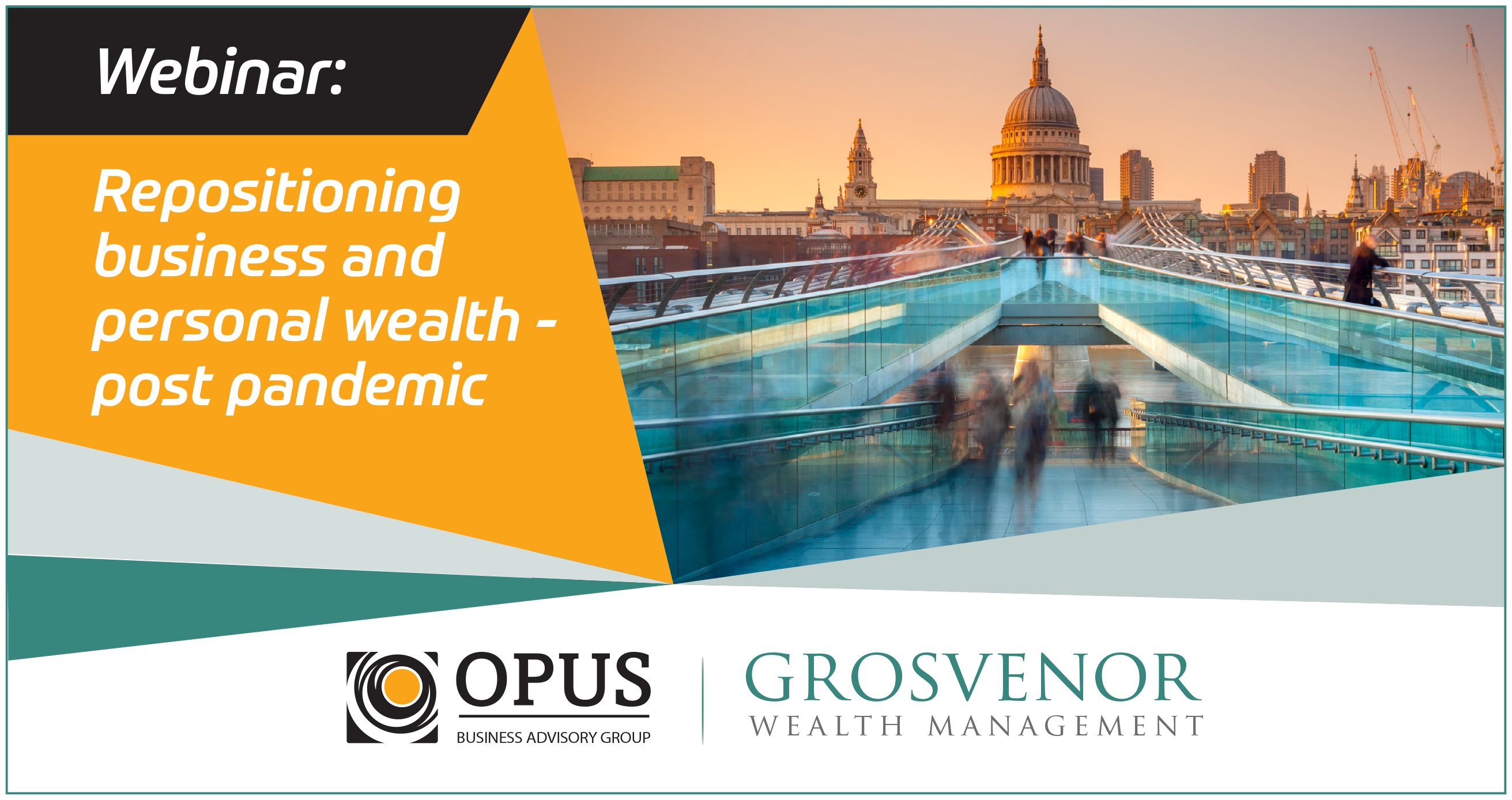 Overview
On the 13th October 2021 we ran the second webinar in this series is aimed at helping business owners reposition their business in these post pandemic times.
John Thompson from Opus Business Advisory and Matthew Bourn from Grosvenor Wealth Management shared useful pointers.
1. Repositioning and growth (in a post covid world) for your business, and succession planning and exit plans – John Thompson – 15 mins.
2. Aligning personal life plan and retirement to business succession and exit – Matt Bourn, GWM – 15 mins.
3. Questions – 15 mins.
An opportunity to hear from experienced advisers in the areas of business restructuring, business and personal insolvency, business turnaround, and business and personal wealth protection.
Recording
The webinar lasts for approximately 30 mins with 15 mins for questions at the end.
On the 15th September we ran the first webinar in this series, which focused on the current issues being faced by companies, what can be done to address them to then grow the business. For more details and to watch this webinar recording, please click here.
Panelists
John Thompson
Partner - Business Advisory & Turnaround
Opus Business Advisory Group
John's speciality is in working with existing management teams to create real value in growth potential with under performing or stressed SMEs. He works with ambitious organisations to address issues that are stifling business growth and assist in the development and implementation of new strategies to achieve stakeholder aims.
Prior to delivering advisory support, John was a business owner himself and has significant experience in running, building up and selling businesses. He also completed an MBA in 2007.
Matthew Bourn
Chartered Financial Planner
Grosvenor Wealth Management
Matt is an experienced Chartered Financial Planner and joined Grosvenor Wealth Management In September 2020. Matt's experience allows him to provide advice across all areas of financial planning including wealth management, pensions, investments, inheritance tax planning, as well as long term care and protection.
Matt strives to build long term meaningful relationships with his clients, whilst helping them achieve their financial goals and aspirations.